Arrowhead Park Medical Academy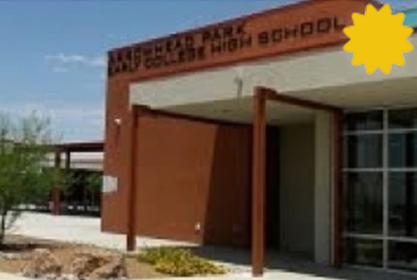 Arrowhead Park Medical Academy (APMA) is a freestanding early college high school as part of the Las Cruces Public Schools (LCPS) located in Las Cruces, New Mexico. Arrowhead's postsecondary partners include Doña Ana Community College (DACC) and New Mexico State University (NMSU). Arrowhead Park utilizes a block schedule that aligns with the college course calendar/schedule. Students attend four courses each semester enabling them to complete eight high school credits per year. In ninth and tenth grade, dual credit courses are integrated into the daily schedule on the APMA campus. During their freshmen and sophomore year, students enroll in three to six college credit hours per semester. Later in their junior and senior years, students are able to enroll in more dual credit courses completing up to 15 college credit hours per semester.
Reflecting the need for Health Occupation workers in our region, APMA students enroll in general Medical pathways preparing them for seamless transition into Bachelors programs in all areas Health Occupations. Technical pathways are also available. Students may pursue completion of an Associate program in a variety of health occupation areas, however the medical associate programs are primary 2 plus 1 programs that students from Arrowhead apply for admission to once they graduate and/or turn 18 years of age. 
SCHOOL AND CONTACT INFORMATION
Las Cruces Public Schools
3600 Arrowhead Drive, Las Cruces, NM 88011
Doña Ana Community College
Postsecondary Degrees/Certificates
Associate of Science – Pre-Med Studies
Associate of Science – Pre-Nursing Studies
Nursing Assistant Certificate
EKG Technician Certificate
Phlebotomy Technician Certificate